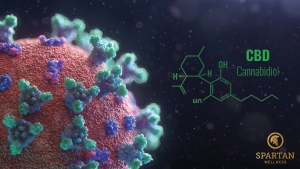 With Covid-19 sweeping the world, it has changed the way we live and do business.  There are many companies and intelligent minds working towards a solution.  There may however be a solution in cannabis, researchers at the University of Lethbridge, along with their partners, have found that specific cannabis sativa extracts are showing promise as an additional treatment for COVID-19.
Specifically the cannabinoid they are looking at is CBD, short for cannabidiol.  CBD has gained huge ground in the de-stigmatizing of cannabis with CBD in beauty products, skin care products, food, and even sex lube.  CBD is a non-psychoactive cannabinoid found on the cannabis & hemp plant.
CBD imparts a feeling of relaxation and calm. Unlike its cousin, delta-9-tetrahydrocannabinol (THC), which is the major active ingredient in marijuana, CBD is not psychoactive.
"Given the current dire and rapidly developing epidemiological situation, every possible therapeutic opportunity and avenue needs to be considered," says Kovalchuk. "Our research team is actively pursuing partnerships to conduct clinical trials."
Also, a new Israeli study at Ichilov Hospital in Tel Aviv will examine the impact of cannabis on Coronavirus (COVID-19) patients.
The new study is investigating whether one of the active substances in cannabis, cannabidiol, can slow down the inflammatory process that accompanies the deterioration of severe Coronavirus patients and alleviate the symptoms of the disease.
While CBD has been known to help with back pain, osteoarthritis, and even cancer, it will remain to be seen if it will be a good defender against Covid-19.  We certainly hope so, and if you want to learn more about medical cannabis as a therapy please fill out the "Interest Form".
Sources:
500-1000 Innovation Dr.
Kanata, ON,
K2K 3E7