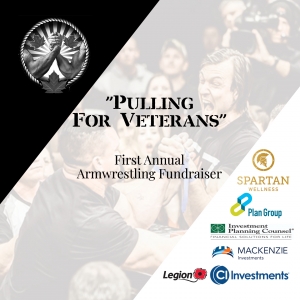 When Dave Drumm was approached to help create an event at the Bowmanville Legion, he got right to work creating –
"Pulling For Veterans"  The 1st Annual Armwrestling Fundraiser
Bowmanville Legion Branch 178
Saturday February 22nd, 2020 – 1:00pm (Weigh in starts 10am)
Dave not only wanted create an event to help raise awareness for his local Legion but to also help homeless Veterans.  All proceeds from "Pulling For Veterans" will be donated to the
Joe Sweeney Fund.
  The fund was created to to ensure that at risk Veterans have suitable housing and/or the support services they require to remain permanently housed and with a stable future.
The event is not just for fun either, this is a sanctioned event by the Ontario Armwrestling Association.  There will be over 150 armwrestlers in attendance with an amatuer and pro class.  Armwrestlers from all over Ontario will be in attendance for this fundraiser.
"If there is one thing that Veterans do exceptionally well at, it's supporting other Veterans!!" -Riad Byne, Spartan Wellness
The categories include
Right & Left Mens
0-165 lbs
166-198 lbs
199-232 lbs
233 lbs+
Womens
There will also be a First Responders class, also a Men's & Women's open right handed classes going on as well.  There will be tropies for the amatuer class, cash prizes, cash prizes, giveaways, 50/50 draws and every entry gets a ticket for one of six $100 gift cards!!
Entry fees are due at the door and they are as follows:
Amatuer $25 per arm
Open Class $40 per arm
First Responders $20
Spartan Wellness believes in helping Veterans and their community initiatives which is why we are proud to be collaborating with and sponsoring this amazing event.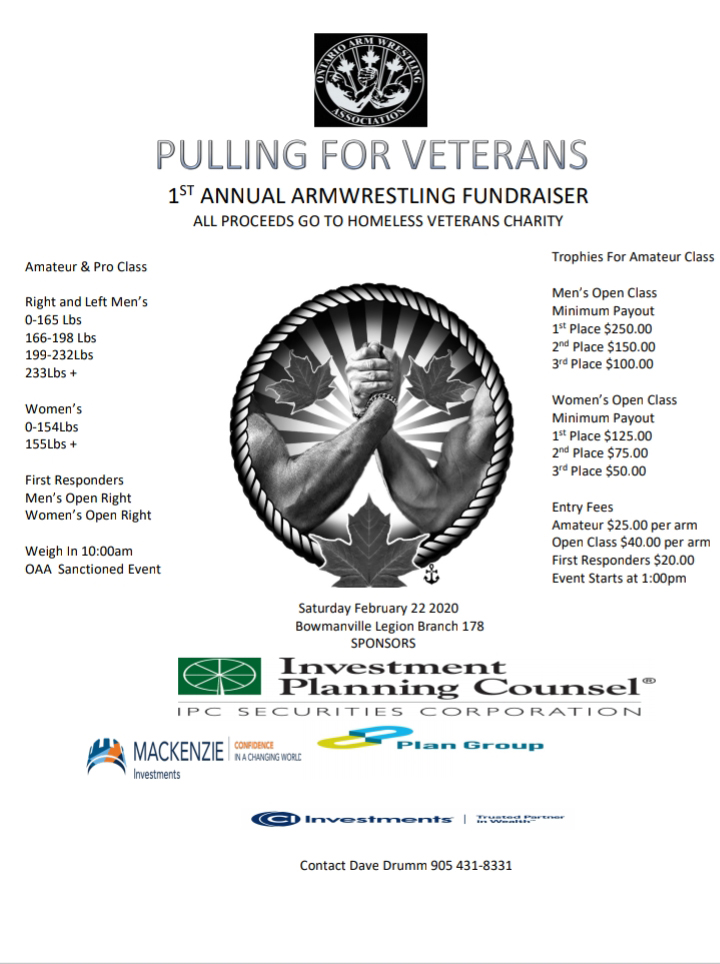 500-1000 Innovation Dr.
Kanata, ON,
K2K 3E7