Sound Therapy – Helping Veterans w/ Relaxation & Wellbeing
Sound Therapy – Helping Veterans w/ Relaxation & Wellbeing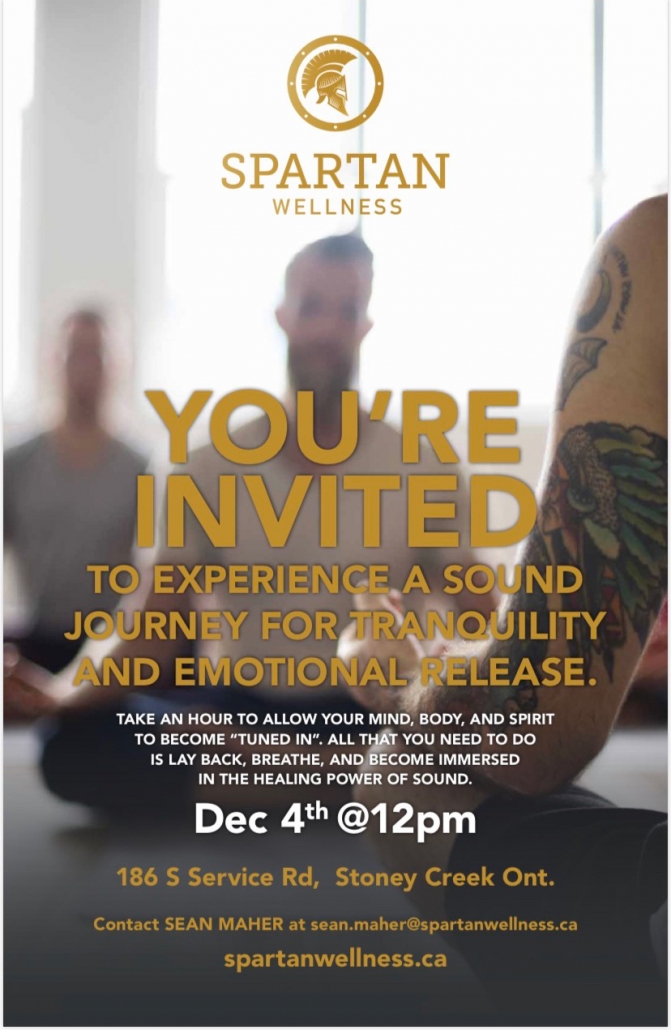 Join Spartan Wellness Co-founder Sean Maher and Dr. Tiffany Hunt for an afternoon of Sound Therapy, A Sound Journey For Tranquility & Emotional Release.
Happening Dec. 4th, 12pm at 186 South Service Road, Stoney Creek, Ontario.  FREE of charge.
Too book your spot, email sean.maher@spartanwellness.ca
For thousands of years sound therapy has been used as a tool to help with healing and relaxation.  Throughout Asia Himalayan singing bowls have been used for prayer and meditation. Now they are being used for many different things including relaxation and wellbeing.
Sound therapy was formally introduced to the UK in 2000 with the establishment of BAST (British Academy of Sound Therapy).  BAST attempts to treat individuals with fertility issues, chronic pain, cancer, stress-related illnesses, IBS, ME, tinnitus, mild depression, anxiety and arthritis.
Canadian Veterans are finding sound therapy is helping with not only physical illness but also to help balance emotions and quiet a busy mind. Following treatment most people felt calm and relaxed and for some this feeling will last for several days following the treatment.
Through a series of relaxing or stimulating sounds – gongs, drums, bells, bowls, tuning forks and the human voice are all used to try to rebalance the body and mind.
Sound healing therapy uses aspects of music to improve your physical and emotional health and well-being. The person being treated partakes in the experience with a trained sound healing practitioner. Sound healing may involve:
Listening to Music
Singing Along to Music
Moving to the Beat of the Music
Meditating
Playing an Instrument
There are different types of sound therapy, including vibrational sound therapy, which uses special sounds that produce vibrations thought to improve brain waves. Also guided meditation, neurologic music therapy, singing bowl therapy, tuning fork therapy, and brainwave entrainment,
Sound healing is used to treat symptoms of a number of conditions, including:
Post Traumatic Stress Disorder
Anxiety Disorders
Depression
Dementia
Autism and Learning Difficulties
Behavioural and Psychiatric Disorders
Cancer
Some of the supposed benefits of sound healing include:
Lowers Stress
Decreases Mood Swings
Lowers Blood Pressure
Lowers Cholesterol Levels
Teaches Pain Management
Lowers Risk for Coronary Artery Disease & Stroke
Improves Sleep
Please join us for this free Sound Therapy workshop happening Dec. 4th, 12pm at 186 South Service Road, Stoney Creek, Ontario.  FREE of charge.  Moving forward Spartan Wellness and Dr. Tiffany Hunt will be hosting Sound Therapy events monthly.
Too book your spot, email sean.maher@spartanwellness.ca
Sources;
https://www.theguardian.com/lifeandstyle/2008/jul/06/healthandwellbeing5
https://www.healthline.com/health/sound-healing
500-1000 Innovation Dr.
Kanata, ON,
K2K 3E7