Stay Safe, Keep Connected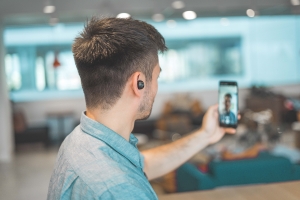 At Spartan Wellness we understand that with social distancing being a priority during COVID19 pandemic,  it can be difficult to be away from family this long weekend.
We have put together a list of free virtual screen sharing software programs that will allow you to connect with love ones across the globe.
Zoom
–
Zoom
is a great conference tool for business and is also a great way to connect with family and friends around the globe. It is free to sign up and invite guests.  Zoom provides a remote conferencing service that combines video conferencing, online meetings, chat, and mobile collaboration.
Google Hangouts
– 
Google Hangouts
bring conversations to life with photos, emoji, and even group video calls for free. Connect with friends across computers, Android, and Apple devices.  Google Hangouts is a communication software product developed by Google.
Instagram
– Instagram has the
feature
to "go live" and you broadcast on the spot or it has private messages where you can have a multiple person conversation.  Now, you can video chat in Instagram Direct, either with just one person or a group. Video chat gives you the experience of realtime video in a private space and helps you feel close and connected to friends when you can't be together. Your friends are already on Instagram, and with video chat, you can seamlessly connect across iOS and Android and without a phone number.
Facetime
– All Apple products come with
Facetime
.  FaceTime is available on supported iOS mobile devices and Macintosh computers that run Mac OS X 10.6.6 and later.
Messenger
–
Facebook Messenger
add on or standalone, easily connect with facebook friends and family. You can even add guests during a call.  Users can send messages and exchange photos, videos, stickers, audio, and files, as well as react to other users' messages and interact with bots. The service also supports voice and video calling. The standalone apps support using multiple accounts, conversations with optional end-to-end encryption, and playing games.
Skype
–
Skype
has been around for a while and is full of great features helping you connect around the world with loved ones.  Skype is a telecommunications application that specializes in providing video chat and voice calls between computers, tablets, mobile devices, the Xbox One console, and smartwatches over the Internet.
If you are interested in learning how Spartan Wellness can help you with medical cannabis and our transitional medical services please
Contact Us
today.
#greatthingshappentogether
500-1000 Innovation Dr.
Kanata, ON,
K2K 3E7